THE 1920s
Origins - 1921 - 1922 - 1923 - 1924 - 1925 - 1926 - 1927 - 1928 - 1929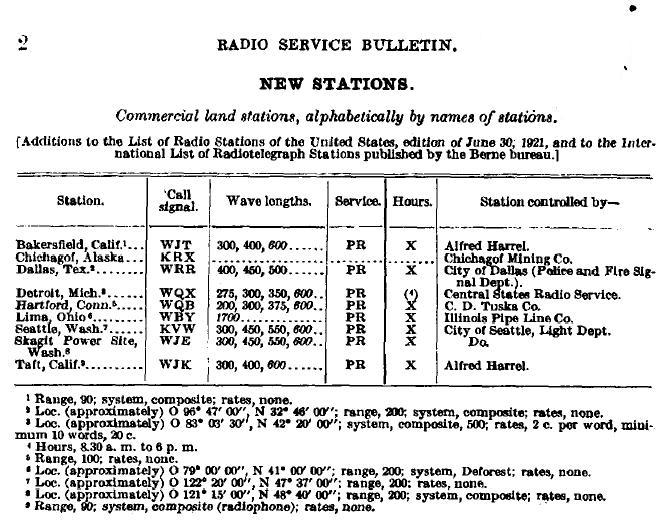 The wireless operation of the Dallas Police and Fire Departments received a formal license as a "land station" from the Bureau of Navigation on August 4, 1921, and was assigned the call letters "WRR". (To the right, the bureau's monthly bulletin lists WRR's newly licensed status.) In later years, the call letters would be said to stand for "Where Radio Radiates". According to WRR's original license, the station operated with a "composite" transmitting system (i.e. "homemade"), and was authorized to operate at a power of up to 100 watts, giving the station an approximate range of 200 nautical miles.
There were often long stretches of time when there were no fire or police calls to broadcast, so to ensure the equipment was indeed working (and perhaps satisfy their own curiosity with the strange new device), the dispatchers started to resort to other means of occupying the airwaves. They would read articles from the Dallas News or Herald, read letters, and tell jokes. Soon they had even brought in a phonograph player to place next to the microphone and send music over the airwaves. A small but growing audience became fascinated by the magically transferred voices and music – these were the very beginnings of radio as we know it in north Texas.
WRR soon began to evolve into a "real" radio station. WRR's initial license was issued through the Bureau of Navigation and fell into a categorical no-man's land - while operating as a "broadcast" station, it was licensed as if it were a point-to-point operation. WRR did not receive a true broadcast license from the Commerce Department's Radio Division until March 13, 1922 (by that time it was license #213, even though in reality WRR pre-dates all but a handful of other broadcast stations.)
| | |
| --- | --- |
| 400,450,500m (750, 667, 600 kHz) | WRR - Dallas |
| | *began broadcasting police reports on 6/4/21, officially licensed as a "commercial land station" 8/4/21. |
1922 was the year that radio truly exploded onto the scene, around America and in Dallas and Fort Worth. Whereas there had only been one broadcaster in the area before 1922, four more would soon join the local airwaves. And while the fire and police calls would still emanate as necessary on WRR, the entertainment and music portions of the programming soon found specific hours. This was partly due to the stations new license, and partly due to the fact that WRR now had to share times other stations that were signing on. In 1922 there were only two frequencies on which broadcasters were allowed to operate: the original amateur wavelength of 360 meters (about 833 kHz) used for "general entertainment", and 485 meters (about 619 kHz) which was to be used only for government reports (weather reports, crop information, etc.) In August 1922, 400 meters (about 750 kHz) was added. WRR, like most stations of the the time, was using rather crude, homemade equipment, so staying on an exact frequency was a rare occurrence. In fact, many operators would simply adjust their frequency up or down if they found they were being interfered with. Radio in 1922 was far from what we know it as today.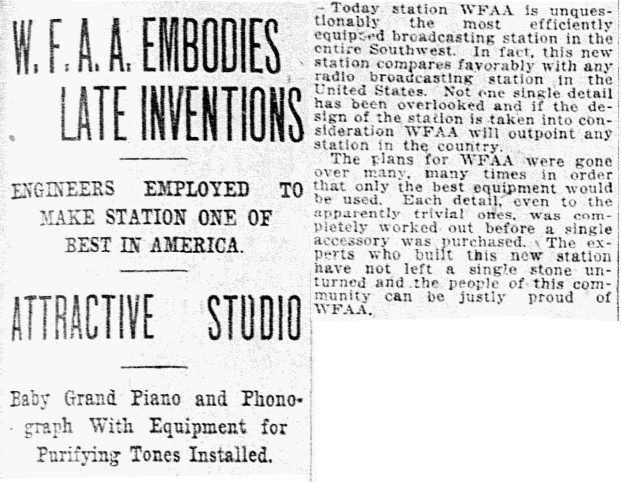 Two stations signed on in Dallas in 1922. WDAO was operated by the Automotive Electric Company located on South Ervay Street, and began broadcasting in May. WDAO operated with 50 watts on the 360m wavelength and operated for about a year although it continued to be listed in official Radio Service Bulletins through 1924.

WFAA signed on June 26th, and was operated by the Dallas News, but it was WRR's "Dad" Garrett who was the real reason behind the creation of WFAA. Yes, as strange as it may seem in this age, Garrett helped put his competition on the air. George B. Dealey owned the Dallas News, and his eldest son Walter was fascinated with the new medium of radio. Young Walter was also a member of the city commission that controlled WRR. So, with a bit of encouragement, Garrett agreed to send one of his assistants, along with a box full of various electrical equipment, to the News to build radio station WFAA.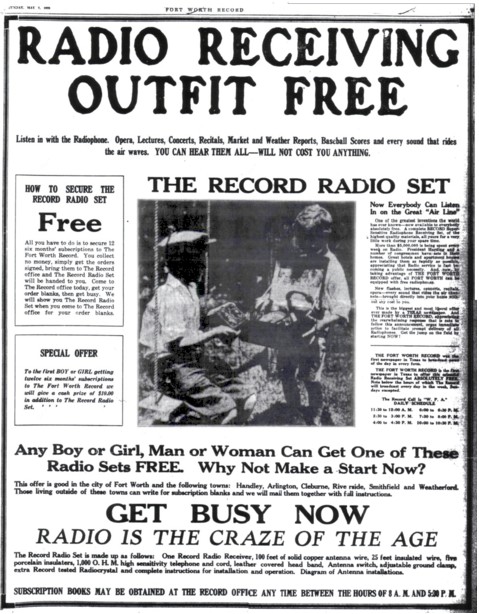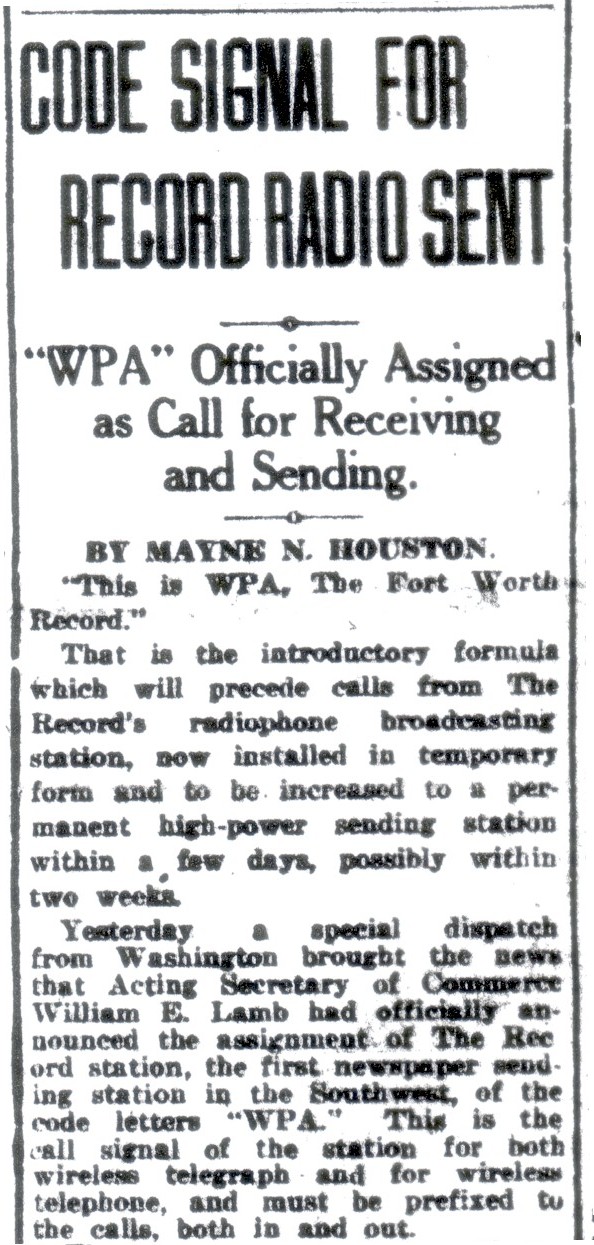 Meanwhile, radio was also coming to life in Fort Worth. The first radio station in Fort Worth (despite what Amon Carter would later re-write in the history books) was WPA. Amon Carter owned the Fort Worth Star-Telegram, his primary competitor at the time was the Fort Worth Record. The Record was located at Fifth and Throckmorton Streets, and that is where, in March 1922, WPA signed on the air. The station billed itself as "The Voice of The Southwest" and the "Pioneer Owned and Operated Radiophone Station West of the Mississippi". The Record even ran full-page advertisements with promotions for free radios so people could listen to its new "radiophone" station. The ad shown to the right offers a free set to anyone who secured 12 six-month subscriptions to the paper.
Fort Worth's second radio station is its oldest – WBAP received its license on April 26, 1922. The station was scheduled to commence broadcasting on May 3rd, but went on a day early with an emergency permit to transmit information because of flooding on the Trinity River. Upon assignment of the call letters, Chief Terrell of the Radio Bureau commented that the letters could be easily remembered with the slogan "We'll Be At the Party". The station would later come to associate its call letters with the more long-standing slogan of "We Bring A Program".




In August, both Dallas' WFAA and Fort Worth's WBAP moved to the new 400m frequency, sharing time and writing the first chapter in an intertwined history of frequency sharing that would not be resolved for nearly a half century.
| | |
| --- | --- |
| 400m (750kHz) | WBAP - Fort Worth |
| | * signed on at 360m 5/2/22; moved to 400m in August 1922 |
| 400m (750kHz) | WFAA - Dallas |
| | * signed on at 360m 6/26/22; moved to 400m in August 1922 |
| 360m (833kHz) | WRR - Dallas |
| | * Re-licensed to standard broadcast frequency (360m) on 3/13/22 |
| 360m (833kHz) | WPA - Fort Worth |
| | * licensed on 3/16/22, on air within the following week. |
| 360m (833kHz) | WDAO - Dallas |
| | * signed on 5/19/22 |
To the right is are the radio listings from the Dallas Morning News from July 1922.
All five stations on the air at the time were on the same frequency (360 meters or about 833 kHz)
and had to work out the times they would broadcast among themselves.

WRR now had to share time with four other broadcasting operations in North Texas. With this crowded arrangement, some stations were on the air less than few hours each week . Radio broadcasting was in the midst of an explosive birth, and the dial was soon re-regulated. In May of 1923, the Federal Radio Commission organized radio frequencies for broadcasting stations, assigning them at regular intervals and creating the precursor to what we now recognize as the AM band. This first "band" only went up to 1350 kHz, and left a space around 360m (833kHz), allowing older and less-technically efficient stations assigned that frequency time to upgrade and relocate.
Well-financed operations like WFAA and WBAP could afford to move to the new, more exclusive frequencies, while operations with fewer resources were left behind on the still-congested 360m (833kHz) wavelength, with many of them disappearing altogether. WRR was at least able to escape the cramped confines of the firehouse's second floor – in 1923 a more accommodating location was found in the Jefferson Hotel. However, its technical operations continued to stagnate.
Three early radio operations met their demise in 1923: WPA signed off the air for good on May 24,1923, after the Fort Worth Record was purchased by the Hearst publishing empire, which wanted to focus efforts solely on the newspaper business. WDAO of the Dallas Automotive Electric Co. went silent in September (although its license was not deleted from the Radio Division's files until June 1924.)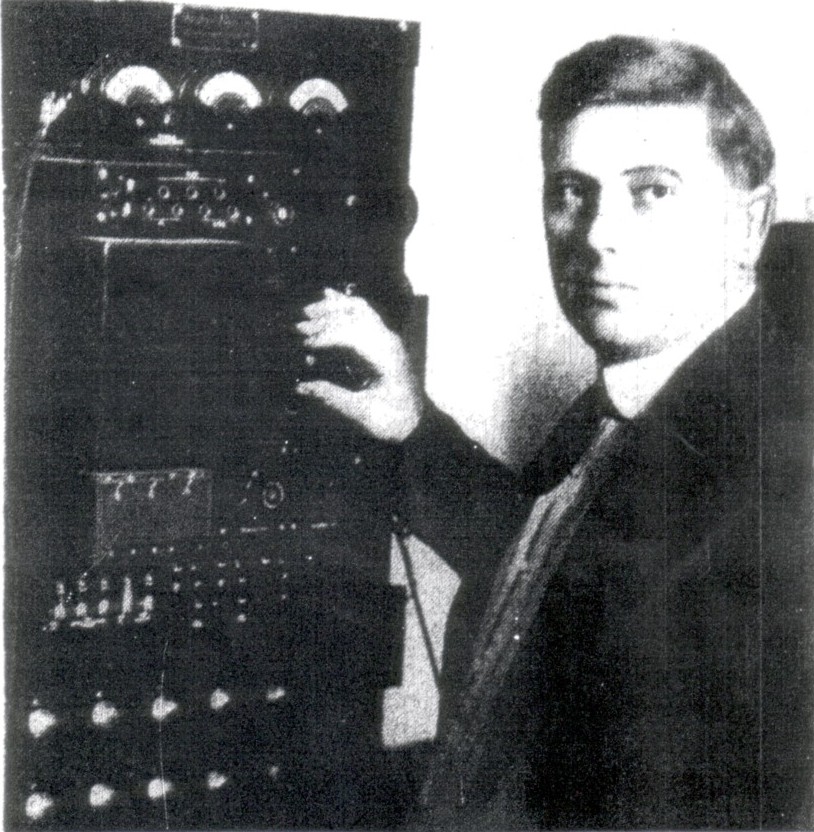 Another station signed on the air in Dallas on April 23, 1923. KFFZ was owned and operated by the Al G. Barnes Amusement Co., and was listed as a "portable" station. Barnes operated a "Wild Animal Circus" which wintered near Love Field, and the station was set up simply to broadcast the "aural sensations" in what was hailed as the first circus performance ever given over radiotelephone". KFFZ only lasted as long as the circus' run at Fair Park that spring.
A "temporary station" was licensed in October 1923 to the State Fair of Texas. It is not known what purpose KFLC served at that year's fair -- only that the station existed for merely two weeks.
Fort Worth was home to another new broadcast operation in 1923. W.E. "Bill" Branch (pictured at right) had been experimenting with radio since the late 1910's with equipment leftover from Camp Bowie during World War I. He was licensed as an amateur operater under the call sign 5VR in August 1921, and in September 1923 he was awarded a license for a broadcast station: KFJZ. He sold the station 5 years later for $9000, and later became chief engineer for WBAP. Branch was killed in an accident while assisting in the construction of a radio station in Mexico.
During most of 1923, Dallas and Fort Worth operators signed off at 7:15 on Wednesday evenings, allowing radio enthusiasts to listen to distant broadcasts. Such "quiet nights"
were common during radio's first years in cities where the radio band was congested.

| | |
| --- | --- |
| 630 | WBAP - Fort Worth |
| | * moved from 750 on 5/15/23 |
| 630 | WFAA - Dallas |
| | * moved from 750 on 5/15/23 |
| 833 | WRR - Dallas |
| 1180 | KFJZ - Fort Worth |
| | * licensed Sept. 1923, although there had been previous unlicensed broadcasts. |
| 1330 | KFFZ - Dallas (portable) |
| | * signed on 4/23/1923; off air in May 1923 |
| ?? | KFLC - Dallas (temporary) |
| | * operated only during October 1923 |
1924 saw two more radio operations come and go in north Texas. In February 1924, the Wilson Construction Company signed on KFOP in the Texas Building in downtown Dallas. The station only operated for a few months, however its operator, Robert Z. Glass, helped sign KRLD on two years later.

KFRO was owned by J.R. Curtis, a student at TCU who, by the time he graduated, hadn't enough money to sign on the station and left the license to expire in March 1925.

Rev. J. Frank Norris of the First Baptist Church of Fort Worth was one of the first preachers ever heard on the radio in Texas, when his sermons were broadcast on WPA. Looking for an outlet for his message after WPA's demise, Norris purchased the transmitting equipment that the Fort Worth Record had shuttered and had it installed at his church. Under Norris' direction, KFQB would serve to help "Keep Folks Quoting the Bible". To the right is a photograph in which Rev. Norris' image has been superimposed above the building that was home to both the First Baptist Church and KFQB. (photo courtesy Arlington Baptist College - Heritage Collection)
WRR was finally able to move from the old 360m frequency in December, finding a new home at 1150 on the dial, but that move meant expensive new equipment had to be purchased for the station, which would soon suffer severe financial consequences.


| | |
| --- | --- |
| 630 | WBAP - Fort Worth |
| 630 | WFAA - Dallas |
| 1120 | KFOP - Dallas |
| | * signed on in February, license deleted in June |
| 1150 | WRR - Dallas |
| | * moved from 833 on 12/2/24 |
| 1180 | KFJZ - Fort Worth |
| 1180 | KFQB - Fort Worth |
| | * signed on 5/12/24 |
| 1220 | KFRO - Fort Worth |
| | * licensed in October 1924, not known to have ever been on air |
As the new medium grew, more regulations on operators became necessary. The move to a new frequency financially crippled municipally-financed WRR. The City of Dallas was not willing to spend the $12,000 necessary to further upgrade WRR's facilities and keep it on the air. Unable to comply with the new regulations, Henry Garrett signed WRR off on April 16, 1925. The citizens of Dallas were in disbelief. Not only had WRR ushered a new technology into the region, it had also become an integral part of the life of its populace. Letters were written to the newspaper editors and petitions were circulated in an attempt to revive WRR.
Seeing this remarkable outpouring, and possibly wanting to help the man who helped him sign his own station on, George Dealey (owner of the Dallas News and WFAA) led the drive to raise the money necessary to restore WRR. Teaming with Dallas' other newspaper, The Herald, the funds were collected, and on October 5, 1925, WRR was re-licensed. The new WRR signed on at 1220 kHz with 500 watts after a six month absence from the airwaves.
630

WBAP - Fort Worth

630

WFAA - Dallas

1140

KFQB - Fort Worth

* moved from 1180 in May 1925

1180

KFJZ - Fort Worth

1220

WRR - Dallas

* license at 1150 deleted 4/16/25.

Re-licensed to new frequency 10/5/25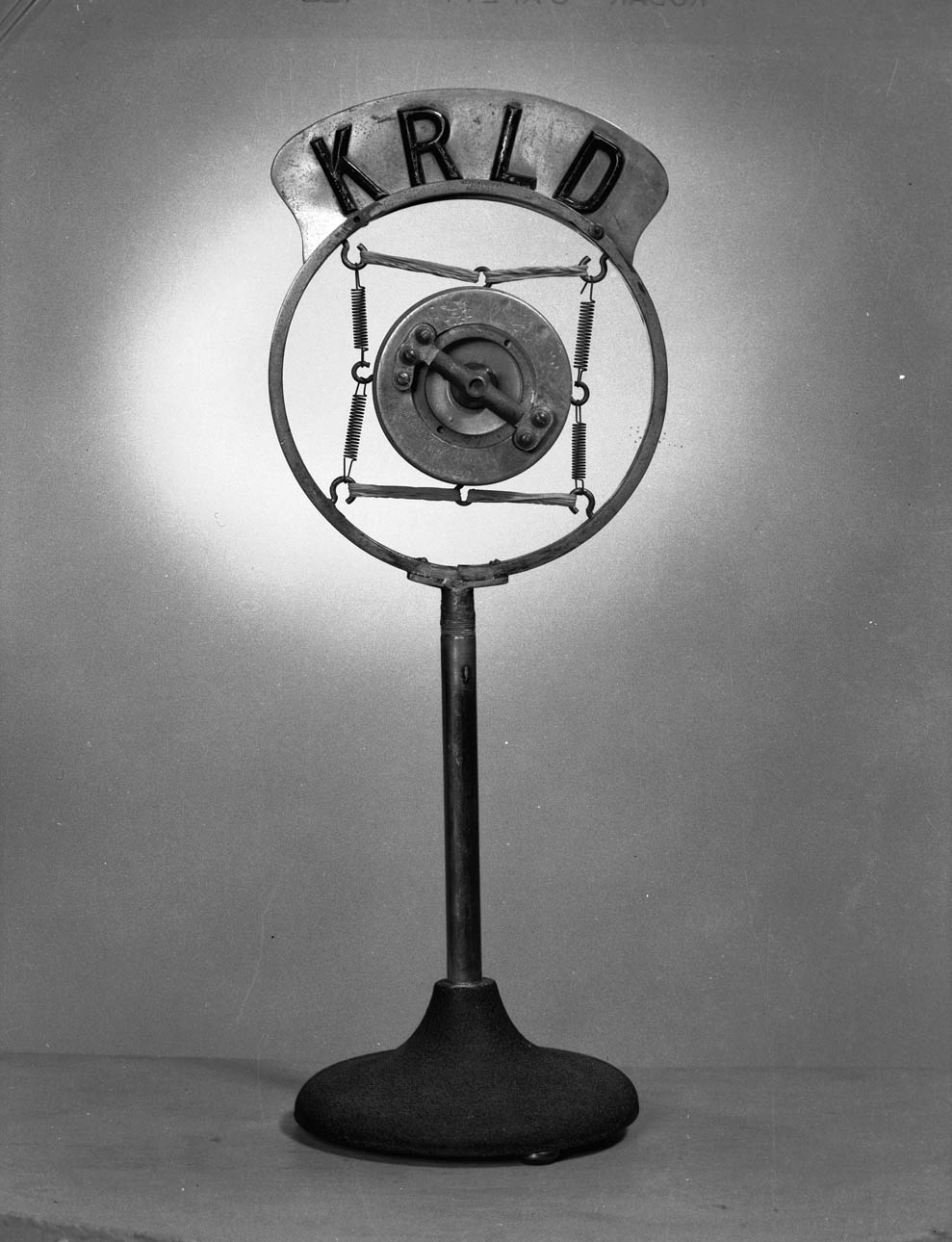 In 1926, the Dallas Radio Laboratories set out to create their own radio station. With the expertise of Robert Glass (the amateur operator who two years earlier had signed on KFOP), KRLD was born. The call letters were settled for after it was found that KDRL was already taken.
Less than a year after signing on, the Dallas Times-Herald purchased KRLD, giving each major paper in Dallas its own radio operation.
There is one last station to mention from Dallas radio's early days: KGDO. The station was licensed in November 1926 to operate with 100 watts. It is not known if KGDO ever actually broadcast, but it is interesting to note that the owner of KGDO was none other than Charles Henry Garrett, the man who single-handedly signed on WRR. The unorthodox 1052 frequency listed for KGDO was a by-product of a legal ruling in mid-1926 that stated the Commerce Dept. (which ulitimately regulated radio at the time) was not authorized to restrict the frequencies used by radio stations. While most remained on the frequencies they were already on, many jumped to new frequencies, and new stations were licensed on whatever frequencies they chose. The Radio Act of 1927 was soon passed, creating the Federal Radio Commission (forerunner of today's FCC), which re-regulated the industry.
| | |
| --- | --- |
| 630 | WBAP - Fort Worth |
| 630 | WFAA - Dallas |
| 890 | KRLD - Dallas |
| | * signed on 10/30/26 |
| 1052 | KGDO - Dallas |
| | * licensed in November, not known to have ever been on air. |
| 1140 | KFQB - Fort Worth |
| 1180 | KFJZ - Fort Worth |
| 1220 | WRR - Dallas |
There was a major shuffling of radio stations in 1927 as the broadcast band was extended to 1500 kHz. Not a single radio station in north Texas was unaffected by the new frequency assignments. To make matters worse, there was an initial wave of shifts in the first half of 1927, followed by the larger shift, which meant some stations changed frequencies twice in just a matter of months. This shift led to first time in history that WBAP and WFAA were not sharing a single frequency (although WBAP would have to split with WOAI in San Antonio).
In the midst of all the frequency shuffling, WBAP became the first area radio station affiliated with a network, joining the National Broadcasting Company on December 1st, 1927.
550

WFAA - Dallas

* moved from 630 to 600 4/15/27; moved from 600 to 550 9/1/27

600

WBAP - Fort Worth

(NBC)

*moved from 630 on 4/15/27

shares frequency with WOAI - San Antonio

650

KRLD - Dallas

*moved from 890 to 840 3/6/27; moved back to 890 6/1/27

moved from 890 to 650 on 11/1/27

650

WRR - Dallas

*moved from 1220 to 850 6/1/27; moved from 850 to 650 11/1/27

900

KFQB - Fort Worth

*moved from 1140 to 1150 6/1/27; moved from 1150 to 900 9/1/27

shares frequency with WJAD - Waco

1200

KFJZ - Fort Worth

*moved from 1180 to 1200

6/15/27
The frequency shuffling of 1927 wasn't enough to fully organize the radio spectrum - it would wind up paling in comparison to the first "Major Renovation" of frequencies which again forced every station in the area onto a new frequency. This major re-allocation led to the creation of "clear channel" frequencies, which were to be exclusive to one station and allowed to operate at higher powers. The 800 kHz channel allotted to WBAP was one such channel.
WFAA, which had enjoyed a brief stint operating alone on 550, was forced to once again share a frequency, operating on 1040 with KRLD. The north Texas area saw its first call letter change in 1928. Texas Air Transport was a small airline started at Meacham field by A.P. Barrett, a close friend of WBAP owner Amon Carter. Apparently fascinated by Amon's radio station, Barrett purchased KFQB and changed the call letters of its new station to the more appropriate KTAT. Initially, the studio and transmitter for the station remained at the First Baptist Church, but that changed the following year.
| | | |
| --- | --- | --- |
| 800 | WBAP - Fort Worth | (NBC) |
| | *moved from 600 on 11/11/28 | |
| | shares frequency with KTHS - Hot Springs, AR | |
| 1040 | WFAA - Dallas | |
| | *moved from 550 on 11/11/28 | |
| 1040 | KRLD - Dallas | (CBS) |
| | *moved from 650 on 11/11/28 | |
| 1240 | KTAT - Fort Worth | |
| | *moved from 900 on 11/11/28; changed from KFQB on 12/7/28 | |
| | shares frequency with WJAD - Waco | |
| 1280 | WRR - Dallas | |
| | *moved from 650 on 11/11/28 | |
| 1360 | KFJZ - Fort Worth | |
| | *moved from 1200 on 11/11/28 | |
Their intertwined history goes back to their very first days on the air, and WBAP and WFAA returned to their peculiar co-existence in 1929, as WFAA moved from 1040 (sharing with KRLD) to the powerful 800 kHz frequency, dividing time with WBAP. Even though there would be many opportunities in the decades to come for both stations to move to a separate frequency and operate full-time, the unparalleled size of the coverage area of 800 kHz meant neither WBAP's owner (The Fort Worth Star Telegram) nor WFAA's (The Dallas Morning News) would budge on the matter.
The studio and transmitter of KTAT originally remained at site of its previous owner, the First Baptist Church of Fort Worth. A fire destroyed the church, and the station, on January 12, 1929. The owners were given special permission to keep the station's license during the lengthy process of building a new studio and transmitter. When the station signed back on the air, it was from a new studio at Texas Air Transport's offices in Birdville (near present-day Haltom City) and new call letters were assumed. KSAT reflected the parent company of Texas Air Transport, Southern Air Transport.
800
WBAP - Fort Worth
(NBC)
800
WFAA - Dallas
(NBC)
*moved from 1040 on 6/1/29
1040
KRLD - Dallas
(CBS)

shares frequency with KTHS - Hot Springs, AR

1240
KSAT - Fort Worth

*fire destroyed studios on 1/12/29; signed back on air later in the year as KSAT.
shares frequency with WJAD - Waco
1280
WRR - Dallas
1360
KFJZ - Fort Worth